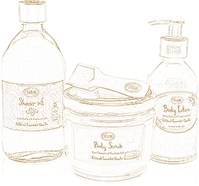 3-in-1 Ritual
Three steps away from a wonderful skin
For a ravishing beauty of the skin we recommend you three products that make wonders if they are used everyday. Discover below the ideal skincare: cleanse, exfoliate, moisturize!
Shower Oil
Thanks to its formula rich in vitamins, antioxidants and essential oils of olives, avocados, jojoba and wheat germs, this fine oil cleanses without over-drying the skin, transforming every moment spent in the shower into a luxurious and sensual experience.
Body Scrub
The body scrub, created from a unique recipe that combines salts from the Dead Sea and four natural oils, gently exfoliates the skin, leaving it soft and velvety.
Body Lotion
For the last step of the ritual, the body lotion with almond oil, organic oat milk and vitamin E, natural ingredients and essential oils nourish the skin in the long term, giving it the comfort it needs.